Katy Perry Loves Happy T-Shirts
It could be the Pharell Williams song happy, it could be that dog on Seventh Heaven or it could just simply mean the state of emotions. Whatever happy means to you, this happy tee worn by Katy Perry is simply delightful. Tattered, ripped, flowy, we love the simple, direct message here! And it's just so nice to be happy and wearing happy t-shirts.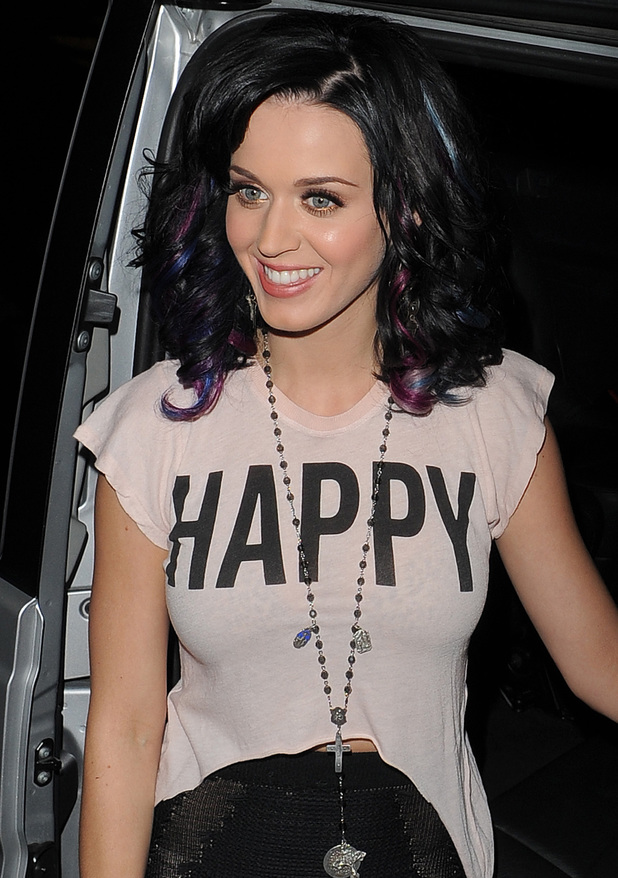 This is a true rock and roll t-shirt, as long as the rocker is singing songs that make everyone happy. And Katy? She does just that! We didn't want to copy this pop rock princess completely, so we've decided to go with a slightly different look. After all, we don't always want to recreate something to the T.
We've reversed the colors on this Bella + Canvas ladies boxy tee for the ultimate rocker feel—who doesn't love light pink on black? The shirt itself is 65 percent polyester and 35 percent viscose for the ultimate comfort.
Your price for 12 of these tees screen printed? You're looking at the reasonable price of $165, that's only $13.75 per tee. For a fashion t-shirt with a great message, that's a steal!
Only looking for one of these? Check it out in our blog store. We're selling it now for $19.99! You can also check out our blog store for previous celebrity tees and other tees you've seen on our blog.
With this shirt you'll be ready for concert! Now, we can't help you with the pink and purple hair, golden eye shadow or long chain necklace, but at least we've got you covered on the one front that really matters! Interested in adding rhinestones? You can do that with a custom order.
Give us a call at 908-806-8337 or email us at Sales@Special-Ts.com for a custom order of this or any other tee. After all, we're here to make you happy.