Do you love celebrity t-shirts?
Love 'em, hate 'em—celebrities set the stage in fashion only ahead of super models and royalty (and by royalty, we mean just Kate Middleton). And it's great when celebrities don't stick to the typical avant-garde outfit and dress down and dirty like the rest of us. That's why AMBRO Manufacturing is starting a new blog segment: Celebrity t-shirts. We'll highlight a celebrity t-shirt from recent memory (and dig out some oldie-but-goodies) and give you a special bulk price on 12!
We'll talk about why we chose that print for the day, what makes this tee special and what you can do with 12 of them. Once in a while we'll feature t-shirts that you can buy both individually and in bulk!
To start it off, since we're a week out from Earth Day, we're going to highlight this tee that Kim Kardashian was spotted wearing.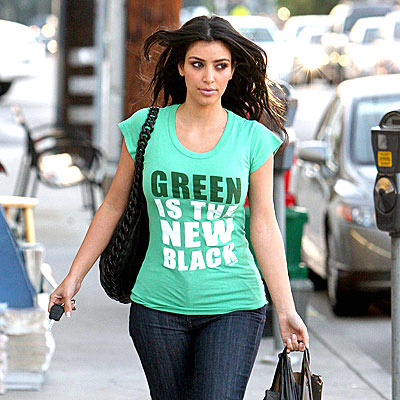 Green in color and staying green for the environment, this play-on-words tee is a great graphic tee to have in your closet!
Our version of this celebrity t-shirt is a Next Level 50/50 tee on a kelly green shirt. Forest green and white ink make it pop! The cost for 12 of these tees? Only $199. That's roughly $16.59 per t-shirt. Let's check out our version.
Interested in ordering these custom green celebrity tees? Give us a call at 908-806-8337 or email us at Sales@Special-Ts.com. You can pay over the phone by card, check or paypal.
Have an idea for a celebrity t-shirt we should use for our next blog post? We want to hear it! Leave a comment below or message us the shirt you're in love with! We can make it happen.